How evil will we become before Jesus returns? The Bible says our thoughts are only evil all the time. And it sounds bad. And yet, it's generic. But when we get right down to the kinds of evil we perpetrate and even pass laws to allow them to continue, I can't help but wonder. Just how evil do we have to get before Jesus returns to earth. Not as our means of salvation. Instead, quite the opposite. As our final judge and conqueror.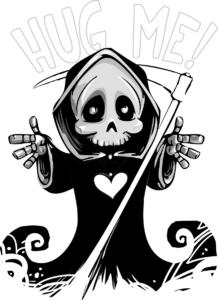 I feel like we're really at the point where we embrace the adjacent image. Evil is cute. As long as evil is on our side, working for Christianity. (Huh?)
We embrace the reaper, as long as he's not coming for us.
We are more than willing to hug evil, when the evil is going to be done to our enemies.
And he is kind of cute, isn't he?
But then, wasn't Satan handsome?
And don't we just love our AR-15s and other assault weapons? Oh. Sorry. I guess I'm supposed to say sporting devices? Or some other…
Read the full article: